Let me be clear, this is not an attack on party stores or any costume companies that make smart business decisions for stocking what people are buying.  This is an attack on you dumbasses who wear these costumes.  For years the French Maid and the Nurse ruled the Halloween roost as the epitome of SEXY costume attire.    I actually don't have a problem with them.  They are as classic as a sheet ghost, a witch, or a pregnant nun.  BUT I beg of you, if you (absolutely) HAVE TO dress sexy for Halloween can you please be legitimately sexy?
#1) Sexy Skeleton: Unless you're a necrophiliac, skeletons should never be sexy. They are intended to conjure up nightmares of walking dead and have in more recent years (thanks to images of dancing skeletons) become more elementary and cute, NOT SEXY.
Worst skeleton EVER!
PICTURE SOURCE
WHY IT'S THE WORST SKELETON EVER:
An armless, footless, and headless skeleton with floating jazz hands is NOT sexy.
#2) Princess Leia:  Why (OH GOD WHY) would you wear the costume below when there is a perfectly good Sexy Leia outfit that is accurate and available for your purchase?  If you are dying to show that your -er- force is with you, then by all means wear the slave costume.  You get nerdy street cred AND don't look like the person that never watched these films EVER.
I will cut you if you wear this.
PICTURE SOURCE
AN ACCURATE SEXY OPTION:
Legitimate Princess Leia.  Seriously, let's all just get real for a second.
The Slave costume is WAY hotter than that dumb dress anyway.
PICTURE SOURCE
#3) Sexy Ninja Turtles:  I just can't.  I just don't know what to say and can't figure out what I even need to say to this.  I have seen so many terrible pictures online of actual women doing their sexy twist on mutant turtles that are trained in the skills of ninjas and crime fighting.
You don't remotely look like a turtle, a ninja or a man,
but you DO look a little mutant.
PICTURE SOURCE
MY SUGGESTED ALTERNATIVE FOR A SEXY SUPER HERO:
Okay, just look at her!   She's HOT and um….. Not green.
Still pretty sure there is nothing sexy about a turtle.
PICTURE SOURCE
#4) Sexy Zebra:  I'm not really sure who finds zebras sexy or who finds even the hottest woman in the world sexy when she's dressed up as an unconvincing zebra .  If I were 100% confident with my body and willing to wear spandex (or level out at a 68% confidence level, but become zebra-willing after having a few shots), I am not sure I would still go for such a fake looking attempt at a zebra.
Not a convincing zebra at all.
PICTURE SOURCE
MY SUGGESTED ALTERNATIVE:
 Totally convincing and this zebra is sexier (read less scary) than the woman-beast.  See?  Even the lions want to tap that.
PICTUE SOURCE
#5)  The Sexy Cheerleader:  If you have the body to rock this costume then by all means go ahead, Pamela Anderson, but I am not sure I appreciate sexy cheerleaders.  What I DO appreciate is the collegiate level cheerleaders who are amazing athletes performing incredible stunts in cool/cold fall weather wearing the skimpy outfits expected of them and keeping a happy face and peppy attitude while doing so.
I'm sorry, WHO are you cheering for?  Satan?  And WHERE are your pom poms?  P.S. Do you think you're going to get everyone's spirits up with bitchy resting face?
PICTURE SOURCE
MY SUGGESTED ALTERNATIVE:
If you MUST be a cheerleader for Halloween then THIS is a believable sexy one.  Why?  Because she actually exists.  If you're absolutely dying to show of your killer gams and abs then just put your football biases aside and become a Dallas Cowgirl or some other legitimate cheerleader.
PICTURE SOURCE
#6)  Sexy Law Enforcement:  Do I have to even go here?  There is nothing practical or  sexy about either of these suits below.  Did I mention they are impractical?  Try foiling a criminal's plan in stiletto boots and fishnets.  UGH!
I'd fight this law and I'd win.
TRUE SEXY LAW ENFORCEMENT OFFICER:
Now this police officer would kick your ass and take your name (and ass) right on down to the station with lipstick still in tact.  A true citizen-protecting, crime-fighting police officer should be considered way sexier to people in this world over someone purchasing polyester to find themselves cute or hot on one night.
PICTURE SOURCE
 #8) Horror Movie Villains:  Chucky?  Freddy Krueger?  These characters are intended to make you pee your pants.  They are not intended to be sexy and they are not intended to be female.
If you see someone in either of these costumes, do the rest of us a favor and push her down the stairs unless she made you pee your pants and then please throw yourself down instead.   Did I mention I hate you for this?
PICTURE 1 SOURCE      PICTURE 2 SOURCE
WHAT I RECOMMEND:
   These costumes are for lurking in the dark.  If you don't think you can pull off making at least one person acquire the fetal position, suck his thumb, and cry for mommy then don't you DARE try and wear one of these.  Oh, and they still obviously aren't remotely sexy.
PICTURE 1 SOURCE      PICTURE 2 SOURCE
#9) Girl Scout:  The Girl Scouts website communicates its mission as "Girl Scouting builds girls of courage, confidence, and character, who make the world a better place."  You see, the keyword that keeps showing up here is GIRL.  While I am taking the time to discuss sexy animals, villains, and crime fighters, let's address the inappropriateness of legitimizing pedophiles every where by sexualizing young children.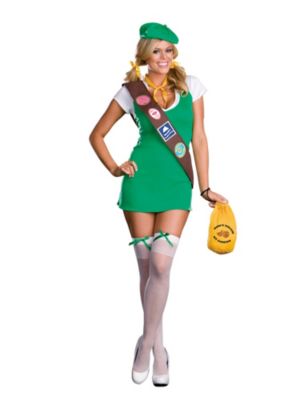 Titled on Party City's website as "Don't Touch My Cookies", I have to say I don't want her box anywhere near my box of Samoas.
PICTURE SOURCE
WHAT I RECOMMEND
I recommend that you STOP and think  about how sick your costume choice is.  If you must be sexy anything, keep 8 year olds out of it.  GROSS!
Sexy costumes have really gone too far at this point.  Sexy pizza and Naughty Nemo are just absurd.   As for professions, like police officers or fire fighters, making them "sexy" in this sense makes it harder for women in those professions to get respect and be taken seriously.   Take reason number 10 in this article, for example.  If you Google "sexy Halloween costumes", you'll see many of these characters/themes come from childhood/adolescence.   Whether it's the cheerleader (so often associated with high school), catholic school girl, Strawberry Shortcake, or even a damn ninja turtle…there's just something really sick about it!
Costumes are way cooler if you create them from your genius brain through your many talents instead of paying $29.99 so some 8 year old child laborer in Asia can repeatedly support your "sexy Halloween habit.  Think about how sexy you'll be if your costume is flattering AND makes you look witty and smart!  Why have those qualities become unimportant?  The business minded side of me would LOVE to see a pie graph of sexy costume purchases.   It would make me feel slightly superior that I'll simply be answering my door this Halloween in a witch hat with a lazily drawn eyebrow pencil mole.
And lastly, can I remind you all that October is cold and none of these costumes are warm?  I hate to be your practical mama, but damn, somebody's gotta be.